|t was his first visit to the land that nurtured me for the best four years of my life. The land that molded me by teaching me tough life lessons, while I learned to live miles away from my sheltered home and family. This visit had to be framed in a very special way. Despite a jam-packed itinerary, we came up with the ambitious plan of doing a styled photo shoot in Chennai, Tamil Nadu, India.
We began our hunt for photographers that shared our vision. We stumbled upon 'The Memory Writers' who impressed us with their enthusiasm and unique profile. When they suggested that we begin our shoot bright and early at 5 am to experience the sunrise and accommodated our request to zip through iconic locations in Chennai, we knew we had struck a good chord!
I've always been in awe of the remarkable architecture of Indian monuments and places of worship. The temples in Chennai have a distinctive character that reflects the beautiful heritage of South India. Look closely at the ornate roof of Kapaleeshwar temple in Mylapore. Each sculpture on the roof is so unique and fits beautifully in this picturesque masterpiece.
We walked through the bustling temple streets packed with street vendors, worshipers, and by-standers. The man at the flower shop was so excited to be in this frame as he thought he was going to be aired on TV! We couldn't help but hide our "pseudo" celebrity glow:)
We did most of our shoot in Mylapore, known to be one of the oldest cultural hubs in Chennai with so much to offer. We were quickly smitten by the character of the colorful rustic homes around the temple!
Speaking of outfits for the shoot, I am absolutely crushing over my brocade sky blue lehenga that I purchased from Shop by Fashion, an online boutique. Pooja, the store owner, is very prompt in her communication and makes the online shopping experience easy and delightful. She has a lovely collection and you will be easily tempted to buy everything you see:) Yang sported a short white kurta that he bought at Magnet Men's Wear in Vadodara, Gujarat, along with khakhi pants.
Who knew temple walls could make such pretty backdrops!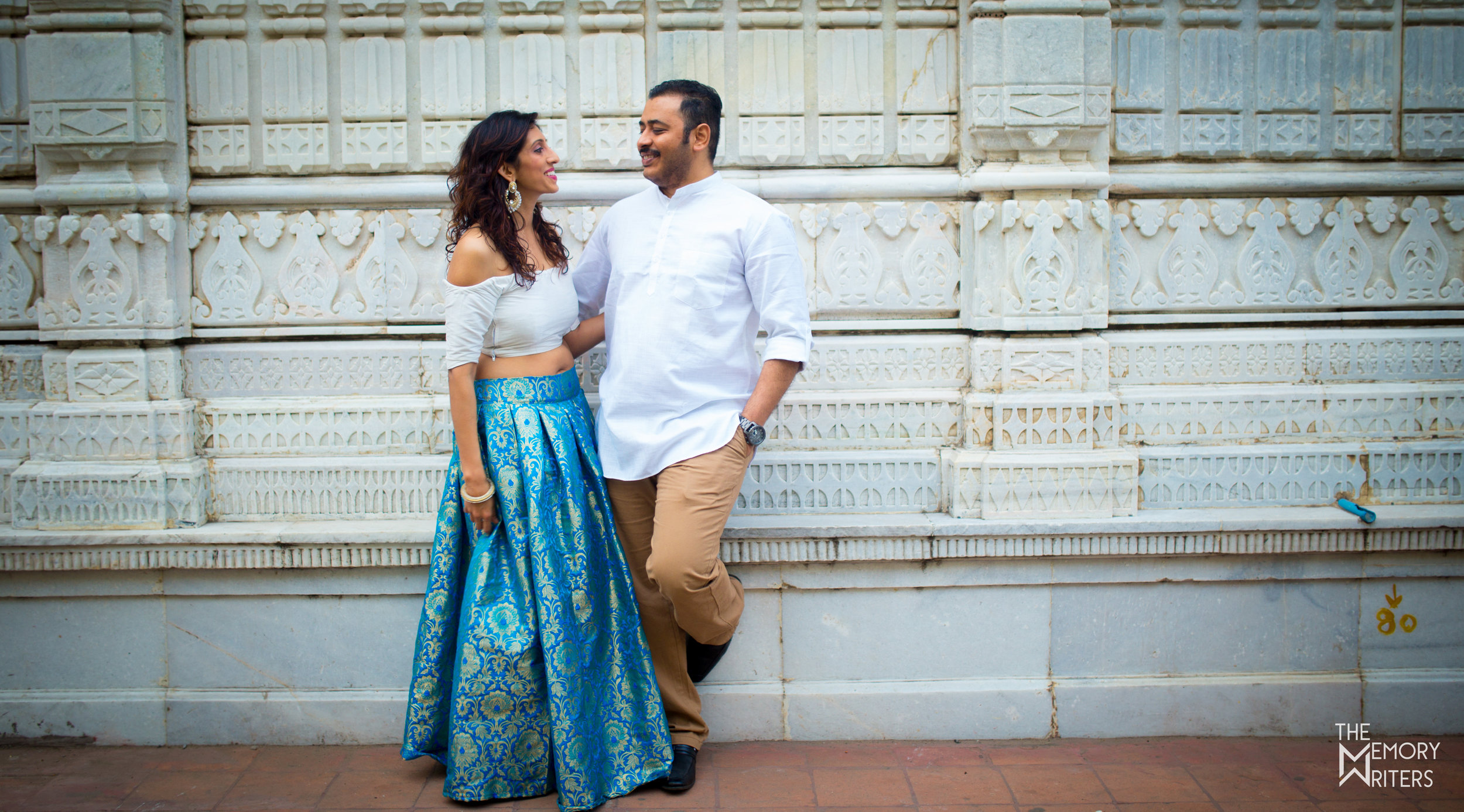 No photo shoot in India is complete without capturing the 'Auto' moment!
We made our way to San Thome Basilica, a majestic Roman Catholic church in Mylpaore, Chennai. This church was built by Portuguese explorers in the 16th century and is a must visit landmark in Chennai.
You cannot talk about Chennai without mentioning Marina beach!
Chennai prides itself about having some amazing beaches and Marina definitely tops the charts amongst locals.
Chennai...you were so wonderful to us! Thanks for giving us many smiles and picture-perfect memories of a lifetime. Here's us just being the 'Yin-Yang' us:)
More tales from our India travels coming up soon. Stay tuned.