The best part about weddings (other than the celebration of love and the unison of two souls of course) is dressing up! I'm sure the ladies are with me on this one! Oh the joys of digging into your wardrobe and pulling out those colorful goodies or raiding the stores to shop the latest trends!
My beautiful cousin got married this summer and this was a first for me in attending a family wedding of someone so close! You can imagine the excitement which obviously translated into some happy dress up days! Bringing you some Indian clothing inspiration...don't miss to catch all the eye candy with a variety of outfits and a splash of color!
Indian weddings usually have multiple events spread out over a couple of different days. You can dress it up or down depending on the type of affair. Some days are more fun while others are more solemn. Pick your attire to suit the event.
Dholki, Mehendi, and Sangeet
These are pre-wedding events and involve singing, dancing, and getting henna on your hands. Check out the styles below:)
Patiala Suits: Fitted tops (kameez) and baggy pants (salwar).
A click with the couple:) Don't miss the bride's matching bangles and elegant lehenga...pretty!
Check out this new look...I got a trendy dhoti sari custom made for the mehndi function. It looks like a sari on the top, but has dhoti style pants on the bottom. I matched the coral sari with a shiny dark brass blouse. Loved the way this turned out! So fun and so easy to move around in (#dhothisarionfleek?). A family friend gifted me the unique golden bag that you see in the images below. This was the highlight of my attires for the wedding:)
Can't take my eyes off the gorgeous sister of the bride in this pretty salwar suit! That blue and lime green combo though!
The bride in a traditional mehndi yellow and the groom in a trendy neta style kurta pajama...love the way these colors complement each other!
All the good looks and styles in my family:)
Grandma in an elegant lime green silk sari...hugs and love from her grandkids.
Wedding Ceremony
Swoon over these traditional kancheevaram silk saris and designer net saris adorned with beautiful jewellery.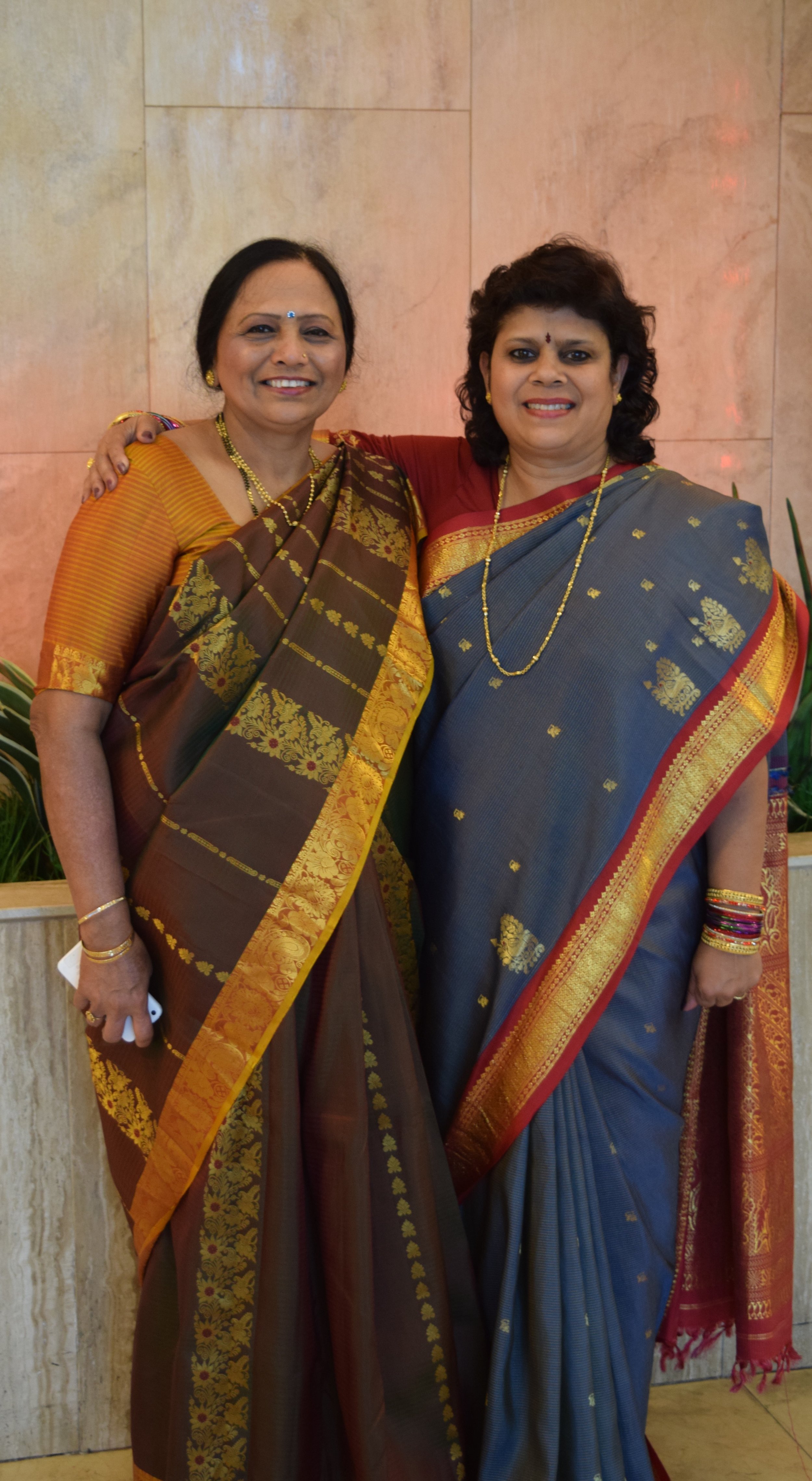 A good blend of traditional South Indian looks and more modern styles.
Reception
What's an Indian wedding without loads of Bollywood style dancing, more color, and pretty outfits to match up to the occasion. Check out the styles below.
I wore a sparkly orange and red sharara suit (super baggy pants) and my sister sported a gorgeous royal blue lehenga.
All these shades of coral, orange, and royal blue! Anarkali, Sharara, Salwaar Kameez, and Lehenga fashions!
Love these folks...they make me smile:)
Until next time...happy shopping and happy dressing up!