We thought of putting a creative spin on your week with a gifting segment on our blog this week. If you haven't seen our previous 'Unique Gifts' post, check out the link below:
http://www.yinyangonfleek.com/out-of-the-box-gifts
What's more special than being able to put a smile on someone's face. As always, here's some off beat and different ideas for your loved one. Enjoy!
Gifting a Buddha Statue
You don't have to be religious to get all excited by a Buddha statue. You've probably seen them at fine dine restaurants, homes, and stores. These artsy and beautiful statues are such a great gift. I love giving them as house warming presents or during the festive season to bring happiness, peace, and good luck. They are peaceful in their presence and can add a special touch to your home's interior design.
Check out this beautiful statue in my home from Pier One Imports. I've seen variations of these statues as candle holders and bookends as well. Super classy as a gift!
A Photo Wall Clock
Why not freeze your special memories in time with this super cute wall clock. Purchased from Archies in India, such a keeper!
Photo Wall Calendar
I started a yearly tradition of gifting my dearest a photo wall calendar every year. Creating this calendar is always such a fun project as it gets you going through all your photos from your year, refreshing some good old memories! With the festive season approaching, this is a great gift for your loved ones.
Unique Dining Experiences
Don't know about you, but our life definitely revolves around food! In all our group reunions, food is a critical part of everything:) You've probably given someone a gift card to a restaurant of their choice to satisfy their food cravings. Nowadays, restaurants are coming up with different concepts to enhance your dining experience. Yes the taste of the food is of course important, but there's also an added value if your dining experience is unique. Here's a few ideas of cool places to dine at...definitely makes a great gift for your foodie pals!
Dine in the Dark
Tried this out with my cousin dearest a couple of years ago. What a unique experience! Well it's not everyday that you eat in a pitch dark room, blinded to your food! The experience is supposed to heighten your senses and make you enjoy your meal even more. Just Google 'dining in the dark' in your city and gift away this experience. Side note: Groupon also usually offers great deals on these:)
Murder Mystery Dinner Theater
Heard about this from a friend of mine recently. So you fine dine and enjoy your meal, while actors engage you in a murder mystery plot with their professional performances. Seems pretty exciting. Anyone want to gift this experience to me? I am all up for it (#hintforYang)!
Visit a Celebrity Restaurant/Cafe
Know someone that tunes into the 'Food Channel' for their weekly soap opera dosage or who plays 'Meal or No Meal' instead of 'Deal or no Deal'? They may very well enjoy a celebrity dining experience. Yang and I love a dessert pit stop at New York's Carlos Bake Shop by the famous Cake Boss. Our friends have also shared that they love eating at Gordon Ramsay's restaurants. Can be pricey...hence a perfect gifting opportunity! Indian master chef Sanjeev Kapoor now has his first North American restaurant Khazana in our backyard in Brampton, Ontario. Another good opportunity to explore a celebrity eat out.
For my fellow Torontonians, this is a must visit restaurant. Loved the food, but the experience is one of a kind. The restaurant is staffed with deaf/hearing impaired servers. Your menu has instructions on how to use sign language to order your meal. Talk about taking a leading step in being inclusive to all people...proud of you Toronto. Check out our mouth watering food below!
Paint Night
This is by far my favorite date night place to hang out at. Who would have thought painting could be so relaxing and fun. You are provided with all the raw materials you need. You sip away on a drink or enjoy a light bite while following an instructor who walks you through the steps of creating an artistic master piece...Voila! Yang and I tried this out together in Buffalo and loved it so much that we took our family out to a local event in Baltimore too. Don't be shy to explore your creative side. Again Groupon has some great discounts on Paint Nite events at your local restaurants and bars.
Jack & Jill Team Gear
We just have to share these super cute T-shirts gifted to us by our besties for our jack & Jill. It doesn't get better than having team gear to celebrate a milestone!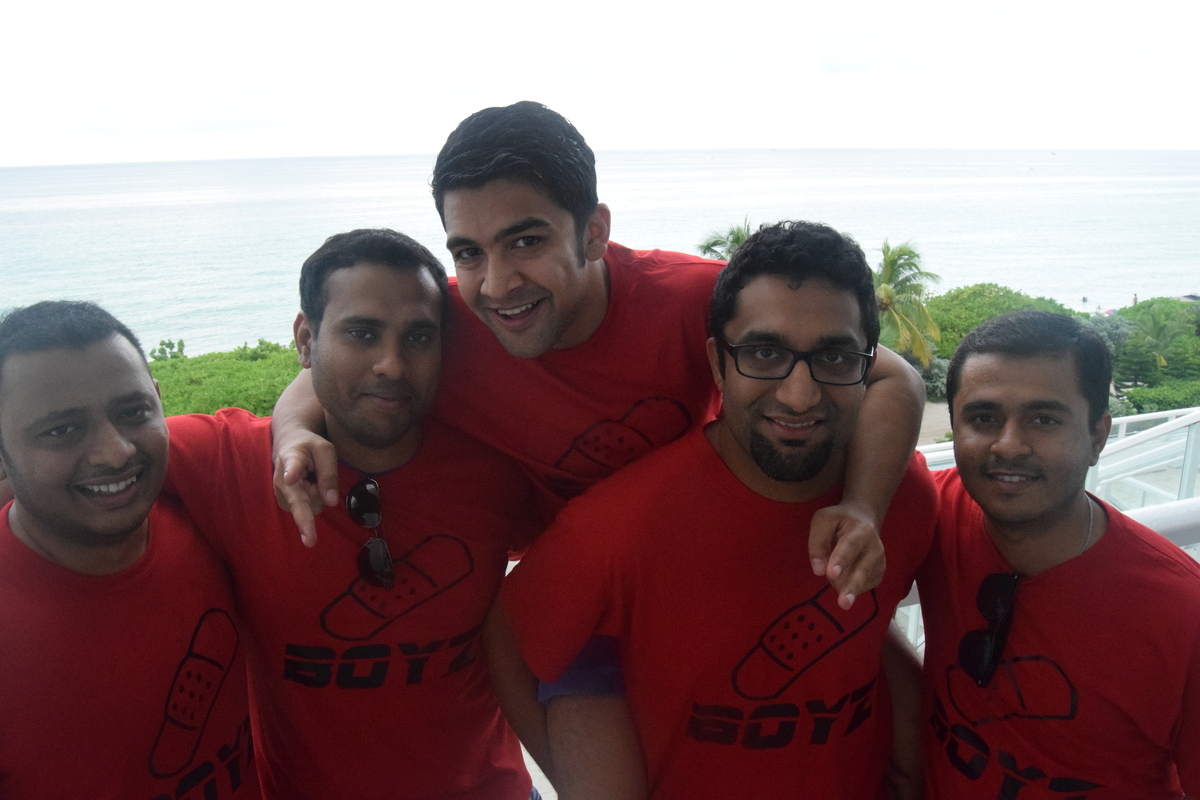 Wishing Tree
Gift the magical power of making dreamy wishes with this special wishing tree. We received this from our dearest friends and absolutely love this little masterpiece. You can tell I'm greedy by the number of wishes on my tree:)
More gifting goodies coming your way soon lovelies! Until then, we will be happy to hang your dreamy wishes on my wishing tree for you :)