The summer leaves rustled...the sun glistened through the trees...and angels peeked from the skies to bless the glorious wedding that united our best friend Priyanka and her beau Karan.
When we think about our favorite memory from 2017, our hearts fill up with a fuzzy feeling and much love. We are so excited to share the details of Priyanka and Karan's beautiful Hindu-Punjabi wedding. We couldn't be happier for this warm and loving couple and their families who truly hosted a one of a kind celebration. As our dearest friends recently marked their first anniversary milestone, we wanted to take this opportunity to share some beautiful memories from their wedding.
While Punjabi weddings are often known for their flamboyant display and grandeur, this particular wedding stood out for us. The couple and their their families focused on celebrating traditional Punjabi ceremonies and rituals which were important to them and they had loads of fun along the way.
Venue
The couple chose to host their wedding near the groom's home town in Virginia. All wedding ceremonies were conducted at the Hilton Washington Dulles Hotel at Herndon, Virginia. The modern hotel setting made a convenient base for the couple's friends and families, allowing people to easily attend all functions, while mixing and mingling with each other during their stay.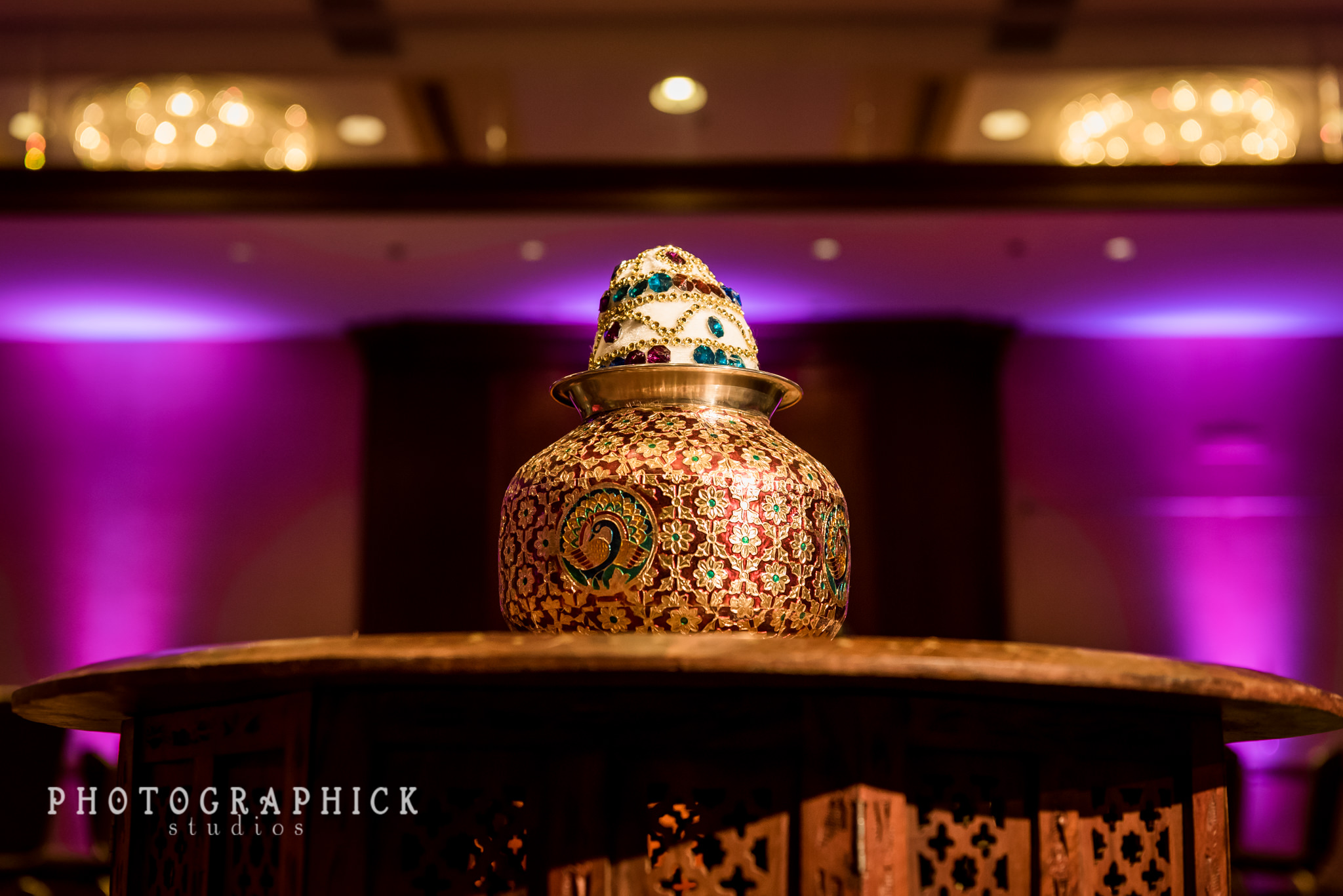 Wedding Events
Mehndi and Haldi
The wedding festivities started with an intimate mehndi function followed by a haldi ceremony with close family and friends. Women sang Punjabi folk songs to set the mood for these fun-filled events. Bright smiles and warm hugs passed around the room as guests arrived for the wedding festvities. The elders took turns blessing the bride to be and all eyes filled with happy tears.
I vividly remember the heavy feeling in my heart as my favorite wedding tune 'Din Shagna Da' played in the background. This song is played so often at weddings and yet every single time, it stirs up a world of emotions and brings nostalgic tears. The emotional bride cherished her time with her family who cuddled her with tight hugs!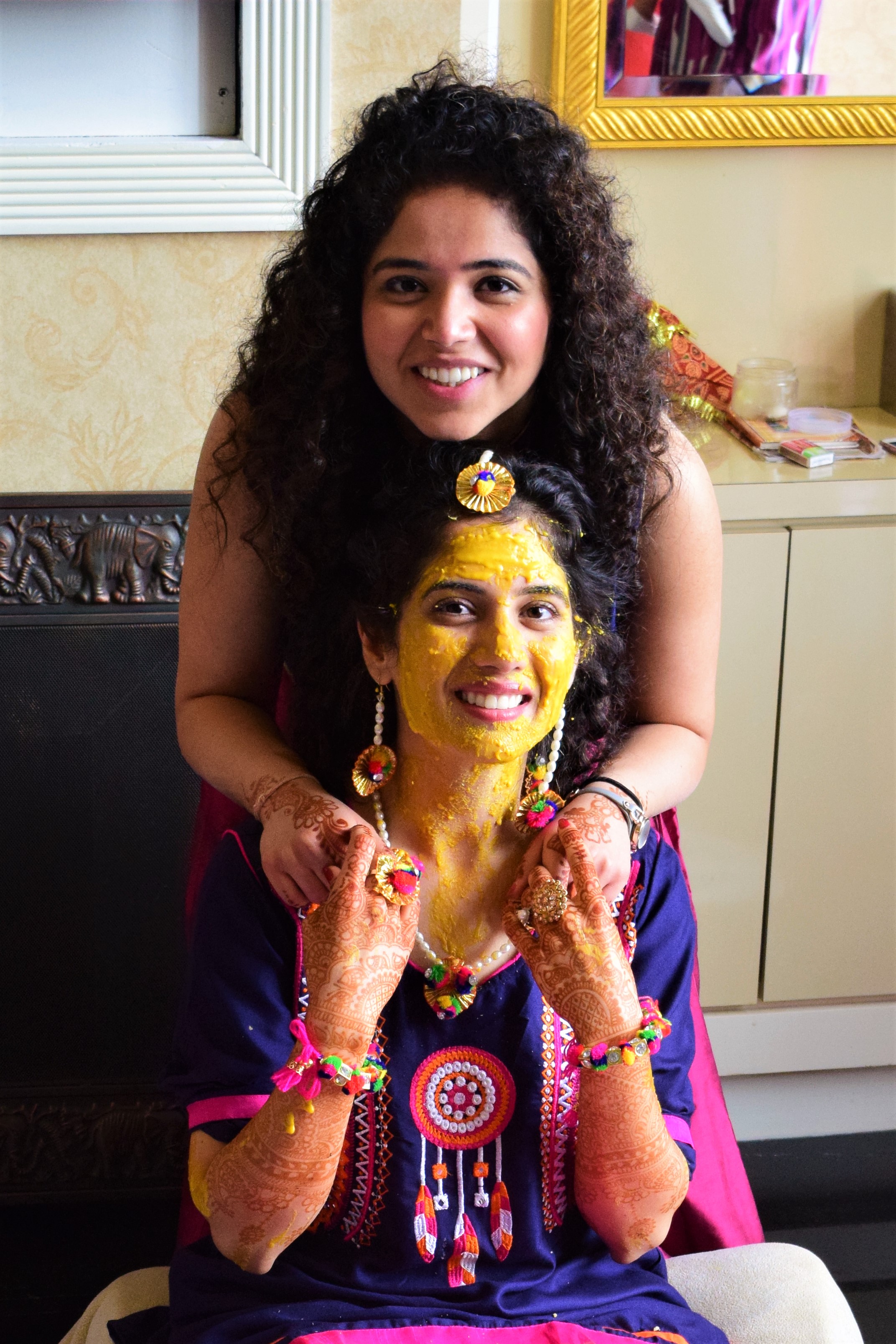 How lovely does Priyanka look in her embroidered salwar suit and gota patti jewellery that she wore for her haldi ceremony? I loved the 'dream catcher' motif on her suit. Such positive vibes for a great beginning!
Ring Ceremony and Sangeet
Priyanka wore a gorgeous lehenga with intricate design and shades of blue, which left her onlookers smitten by her charm. The groom wore a dapper sherwani to compliment her look.
As we walked into the banquet hall, we couldn't help but admire the stunning decor. Beautiful ethnic umbrellas lined the ceiling and vibrant hues formed the backdrop for the stage.
An auto rickshaw stood at the entrance of the venue. This quickly became everyone's favorite photo prop.
The bride and groom sat on an ornate swing, making promises for a lifetime of togetherness. They exchanged rings at the end of a small religious ceremony.
The 'Jago' function that followed was a visual treat, full of fun and frolic. The group sang Punjabi folk songs and danced away merrily.
Family members took turns carrying a pot on their head and spun around in circles. The smiles and energy was priceless!
My favorite part of the Sangeet was watching family members and close friends showcase their talents during lively Bollywood performances.
When I think back to the hours of dance practice that led up to this show, I can't help but wear a huge smile- the last minute scramble, the jokes, the chaos, the family-friends bonding, and the desperation to remember the choreography! What's not to love about big fat Indian weddings?
The bride and groom shared secret glances, blushing smiles, and happy dancing moments together. What a memorable kick-start to a fantastic two day celebration!
Wedding Ceremony
We prepared our hearts for an emotional roller coaster ride as the wedding hours drew close. We felt so lucky to be a part of our bestie's special day. She was such an integral part of our wedding and now it was her turn to tie the knot. It's funny how you randomly cross paths with some folks in your life and they become so close to you, celebrating beautiful milestones together.
The wedding ceremonies started with an early morning 'chooda' and 'kalire' ceremony for the bride. These ornaments are an essential parts of a Punjabi bride's wedding look and are given to her by her family with love and good wishes. Don't miss Priyanka's divine glow during her chooda ceremony.
Priyanka stole the show with yet another stunning ensemble for her wedding ceremony. She looked like a doll in her beige lehenga that was adorned with beautiful detailing and embroidery in red and green. Hold onto your hearts as you check out her pretty bridal portraits!
The bride eagerly awaited the arrival of her handsome groom. He made an entry with quite the bang! His family and friends ushered him to the mandap while dancing to the lively beats of a dhol!
The wedding venue looked heavenly for the ceremony. The dreamy affair took place in an ambience that was clad in shades of red and gold.
The silhouette of Lord Ganesh instilled a divine presence at the mandap and added a beautiful touch along with the tea light floating candles and floral decor that lined the majestic aisle.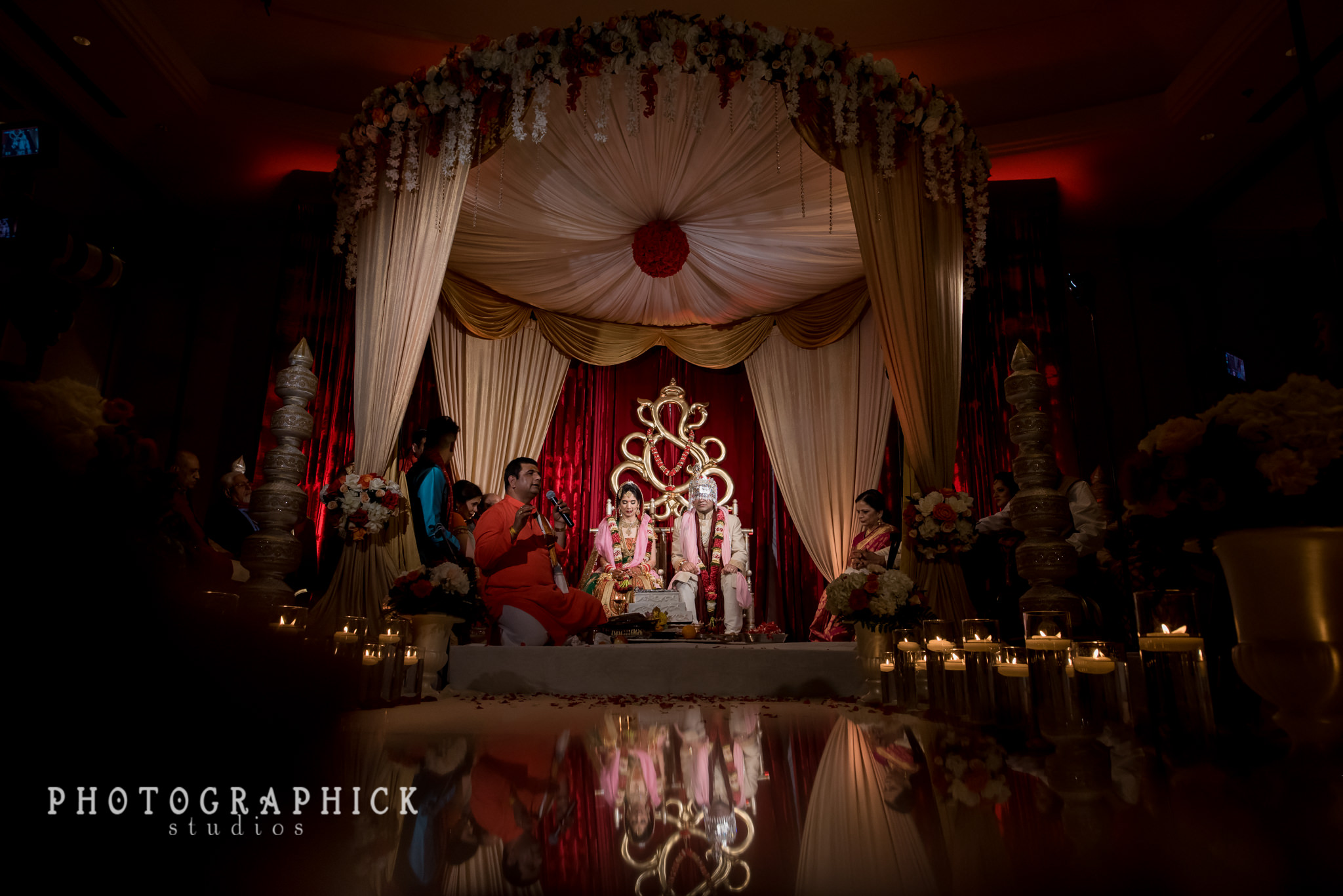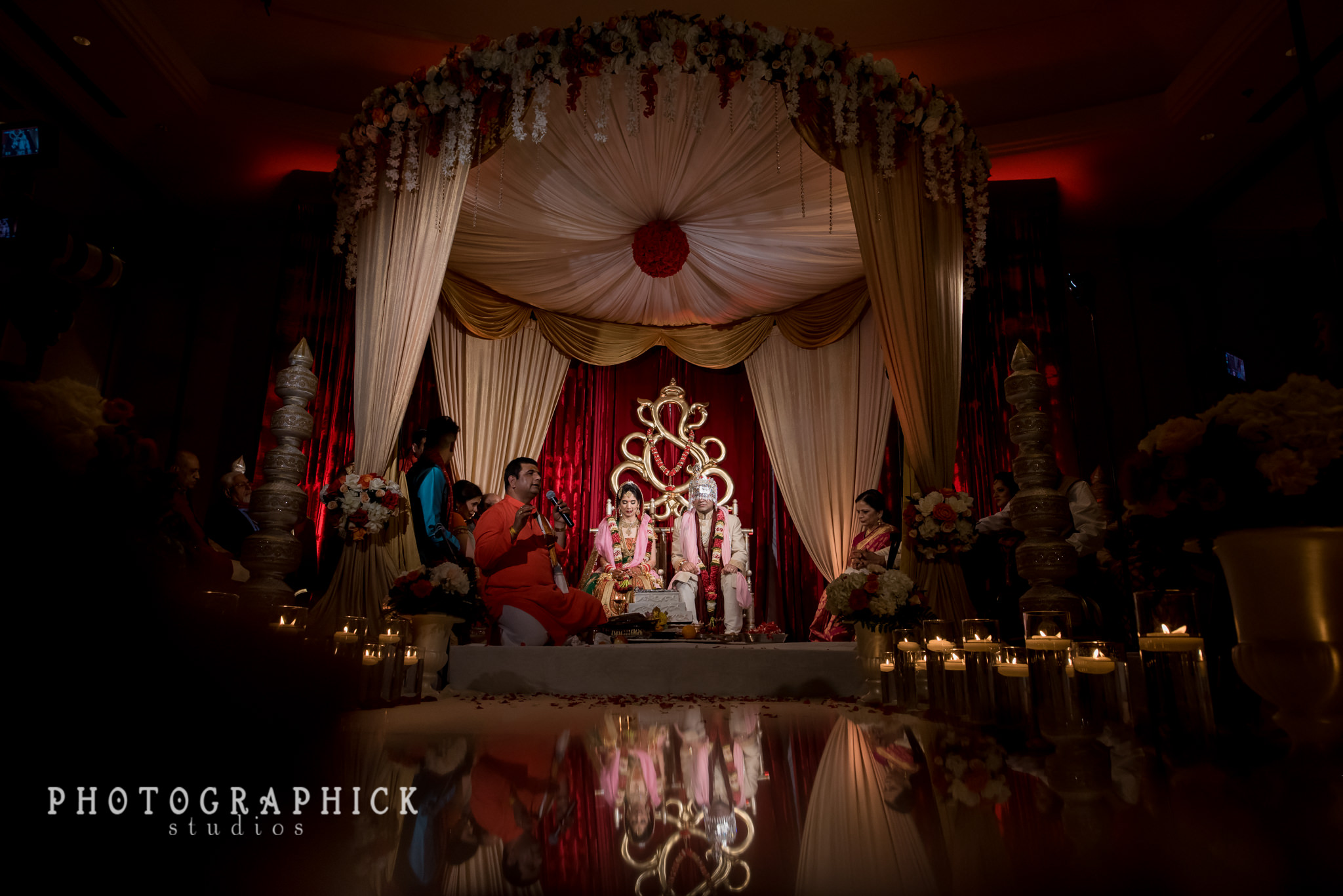 Priyanka shared, "...for our jai malas (wedding garlands), we wanted to incorporate our mandap colors into them and also wanted to include the contrasting colors of our outfits". Take a peek below to see how their vision came to life.
The couple were blessed to have a smooth and fun wedding ceremony. The jovial priest got Karan to make many solemn promises to his wife to be- Karan promised to allow Priyanka to shop to her heart's delight while agreeing to pay for all her expenses :) Now that sounds like a recipe for a happy wedding :)
The couple paid attention to all the little details and went the extra mile to make their events memorable for everyone. Their wedding favors that included hand picked jewellery for the ladies and delish chocolate treats in a decorative boxes for everyone, were very thoughtful gestures.
The bride mentioned, "It was very important for Karan and I along with our families to enjoy all the rituals and ceremonies...
We made sure to include all the traditional elements that make Punjabi weddings so special. We were also very particular about the decor details, food, and wedding favors!".
Reception
Priyanka and Karan's reception was a grand finale to an amazing wedding weekend. The evening decor was ethereal- Victorian frames, flowers, and beautiful tea light candles.
The groom chose this lovely peacock flower arrangement that added a beautiful touch to their purple and gold themed event.
Oggle away at these pretty reception details! Crystals, flowers, and jewels- so classy!
And how about this jewel themed wedding cake? Yes please!
The bride's dark green lehenga with a long flowing cape looked lovely and was a fresh reception look. Her groom looked sharp in his fitted suit.
The pictures below need no explanation...do they? The rest of the night went down with crazy dancing, loud foot thumping, and nostalgic hugs!
Don't forget to check out our favorite Yin-Yang memories from this adorable wedding affair!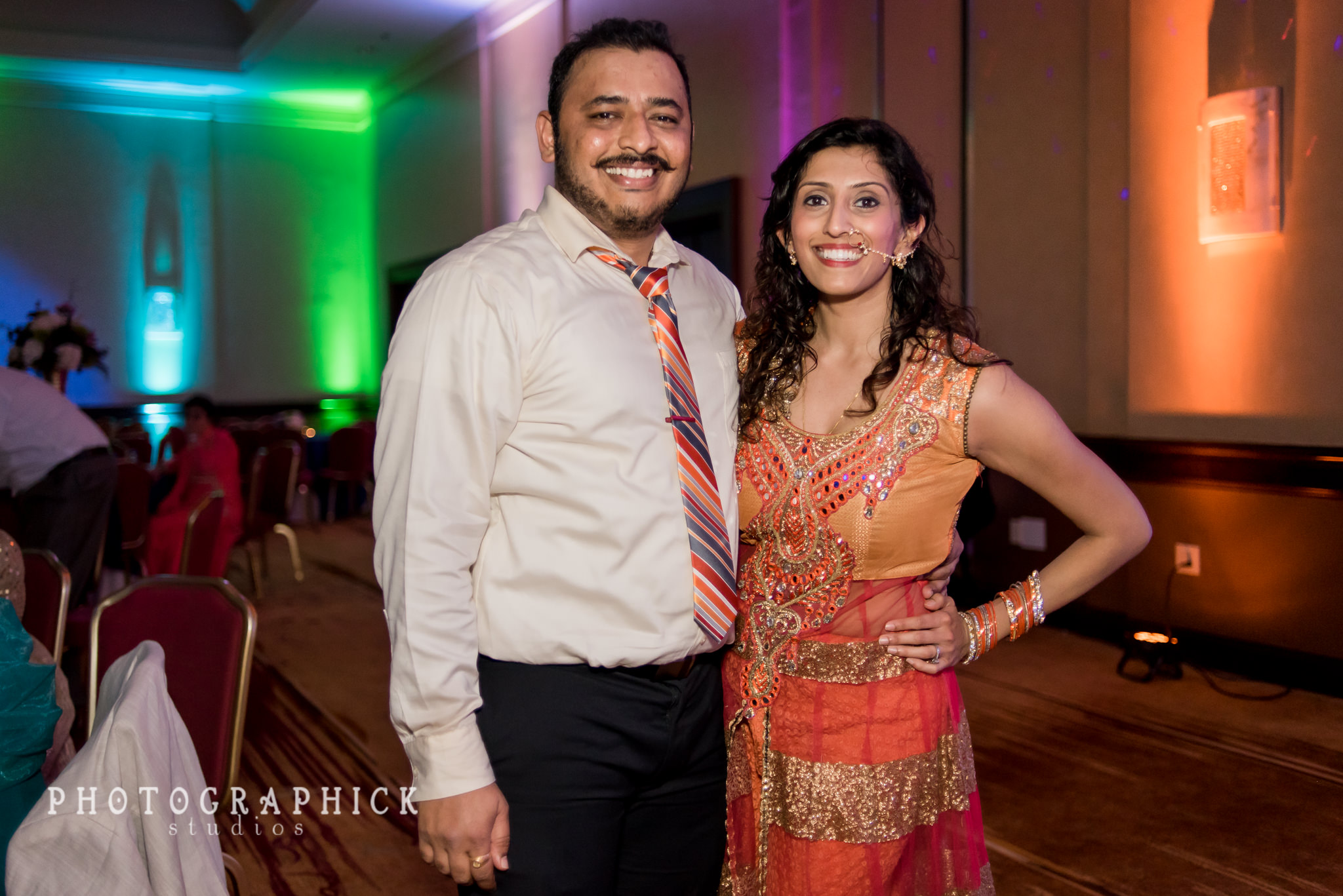 And here's a little visual treat for all you lovelies...