Sure we could all use a cash gift every once in a while...but we are not going to lose any opportunity to show off some creativity when we can, especially when it comes to gift-giving. After all, if a thoughtful gift can add starry smiles to someone's face, then why not?
This post is a combination of some awesome gifts that we have received in the recent past as well as some others that we have gifted our special peeps on happy occasions :) Enjoy!
VALENTINES DAY
I got all creative for our first post-wedding valentines day this year and wrote my dearest some love-filled letters. These 'You're one in a MINNION' themed letters were a super hit. One letter for every occasion to close in on some distance in our long distance journey! The icing on the cake was an SLR in return for the photo crazy me from my love :)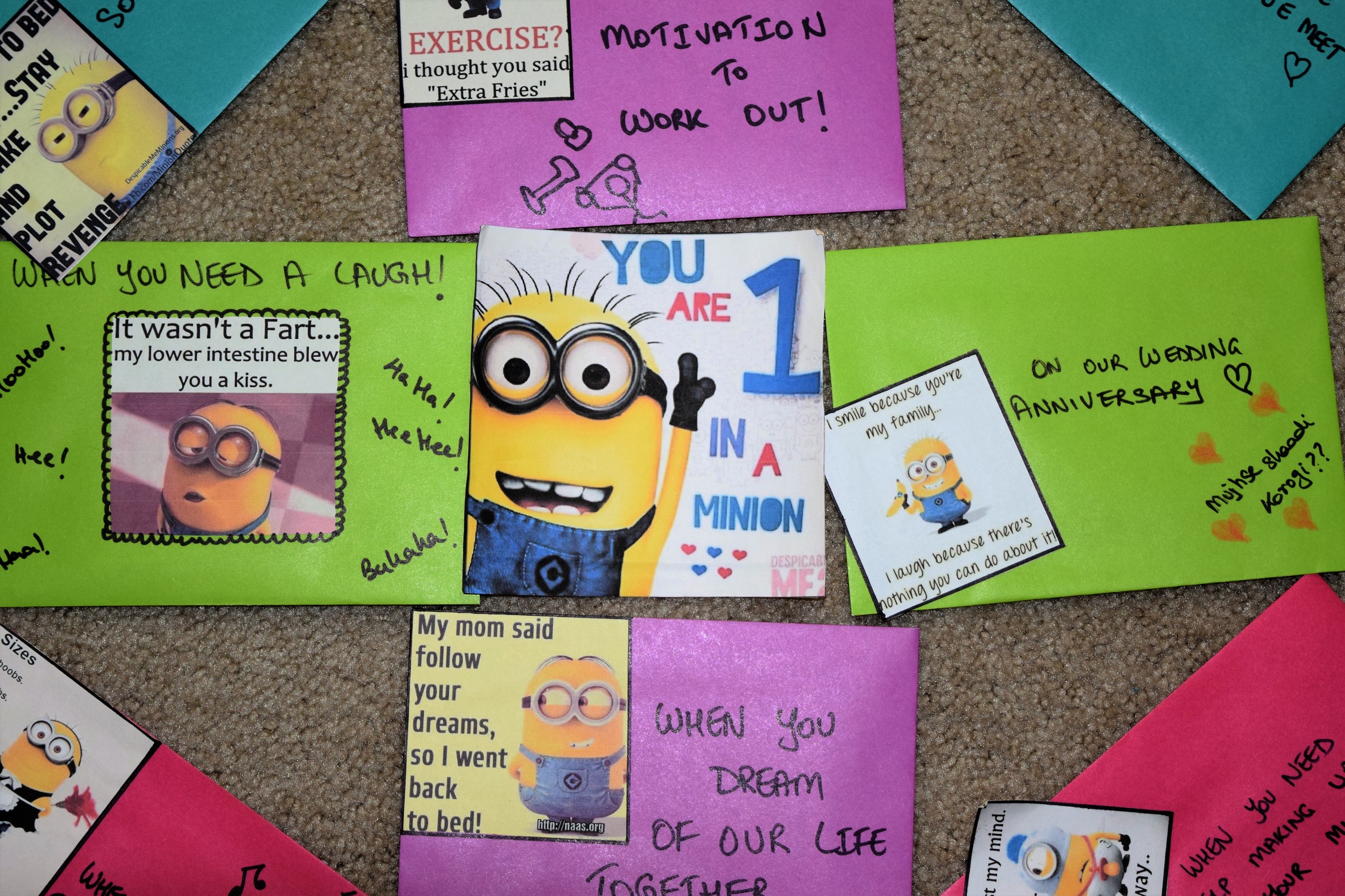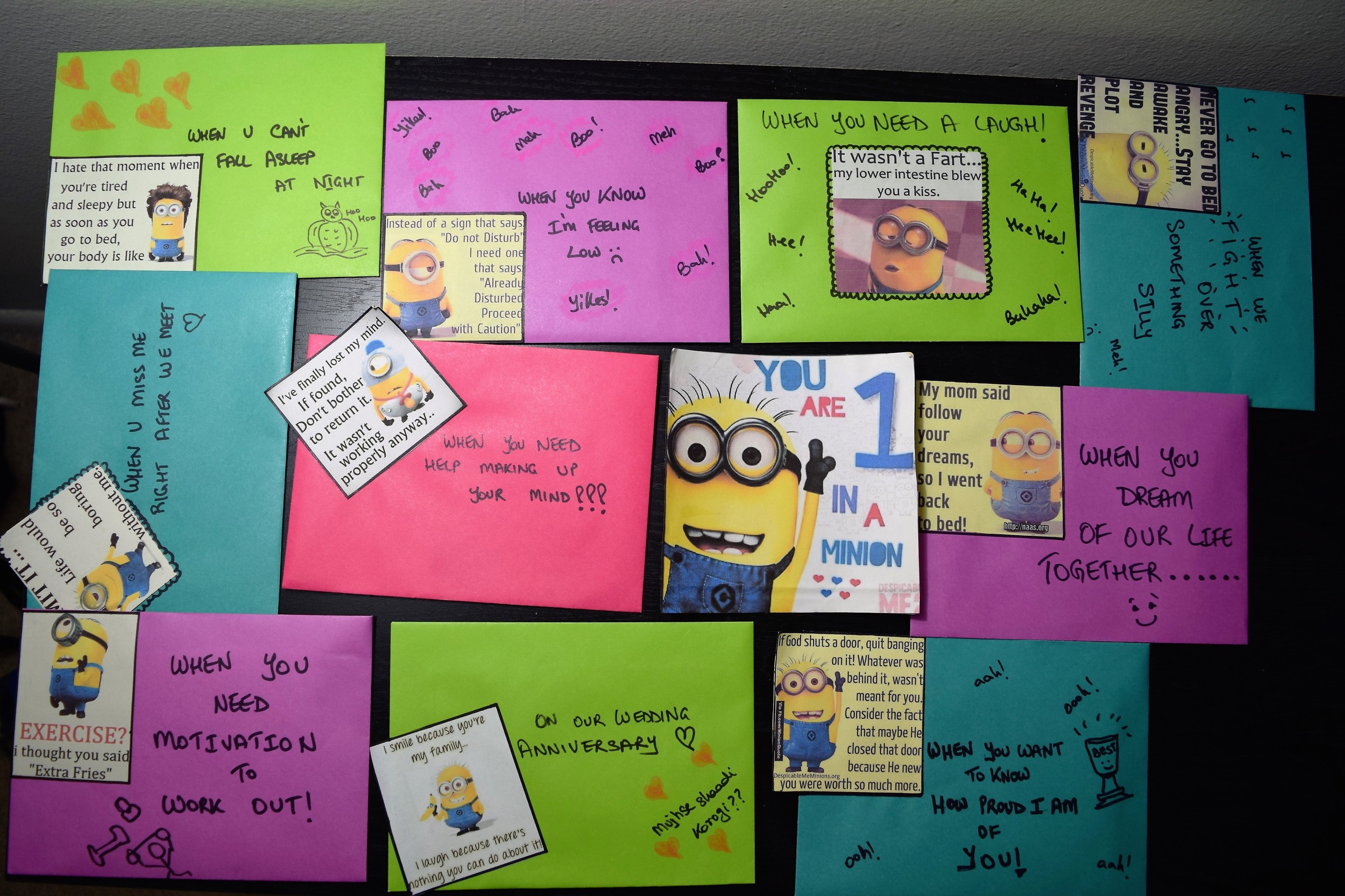 BABY SHOWER
We went all out in unleashing our creativity at a friend's baby shower. Check out some crafty ways to present those diapers, baby towels, creams, etc.
ENGAGEMENT
Want to gift a couple that is recently engaged...check out the fun ideas below!
One of our besties painted this for us and gifted it to us as our engagement gift...Aw! Credit to Priyanka Dua for this creative idea:) So in love with this! We sure are surrounded by some real talent!
We absolutely adore this LOVE frame from our friends. Order and customize this beautiful frame from Personal Creations to personalize it for the couple!
Ever think of gifting your lovelies an engagement photo shoot? Received this super special gift that led us to our wedding photographer...yay!
We added a touch of our Yin-Yang creativity and gifted our close friends this personalized photo tapestry for their engagement. Ordered online from Deny Designs, the printing and photo clarity was flawless. This tapestry against the beautiful waters of Cancun...sigh!
My beautiful cousin is tying the knot this year and I created a personalized Wedding Keep Sake Box for her. Found a beautiful gift box from Michaels (I can spend hours at this store...love it!). I filled it with a 'We're engaged' ceramic photo frame with a photo of the beautiful couple, a 'wedding' themed novel for my cousin who loves to read, engraved champagne glasses for their wedding toast from Things Remembered, and a funky 'light up' tie for the groom. Throw it whatever your heart desires:)
WEDDING
The gift possibilities are endless...
Something auspicious to mark the beginning of a beautiful future ahead?
A wishing jar for guest messages?
We got a speed sketcher artist to draw caricatures of of our guests at our wedding reception. The back of the guest caricature sheets had our bride-groom caricature with our vows written out. We used these as our reception favors.
OMG...this super thoughtful gift...for when we are home owners! A customized elegant door knob for the newly weds! Thanks Swara for this creative awesomeness from Things Remembered:)