Right in the middle of the arid desert sands, we spotted the glistening waters of the oasis surrounded by lush greens. The water body stood serene, majestically showing off it's charm, attracting scores of people to appreciate it's unique beauty. We looked admiringly at the waters. Something about the place was so inspirational. I couldn't help but draw an analogy to life and our being. "Even when we're surrounded by lack-luster sands, don't forget to radiate your quintessential charm. The best will be compelled to follow!"
Hucachina- the only desert oasis in all of South America! This is a small township with bustling streets, adrenaline packed activities, and amazing locals! We were determined to add this place to our itinerary. Our goal was to spend two days doing the Ica/Huacachina loop, including our travel back and forth. Once we landed in Lima, we decided to visit the desert oasis at the beginning of our trip before heading to Cusco and Machu Picchu. Some have alternatively done this route during the last few days of their Peru travels, after visiting Cusco.
Read on...your Huacachina planning made super easy!
Travel
- Lima to Ica by bus: The journey southwards from Lima to Ica is about 4.5 hours. Huacachina is about 15 minutes away from the city of Ica by taxi.
We hopped onto an early morning bus from Lima with Cruz del Sur and made it to Ica before noon. The bus ride was very comfortable with timely departures and arrivals. One light meal was included in the cost of our ticket (a tasty sandwich and cake- filling for breakfast). Options are available for vegetarians too. Our baggage check in process was efficient and we didn't have to pay any extra charges for our baggage.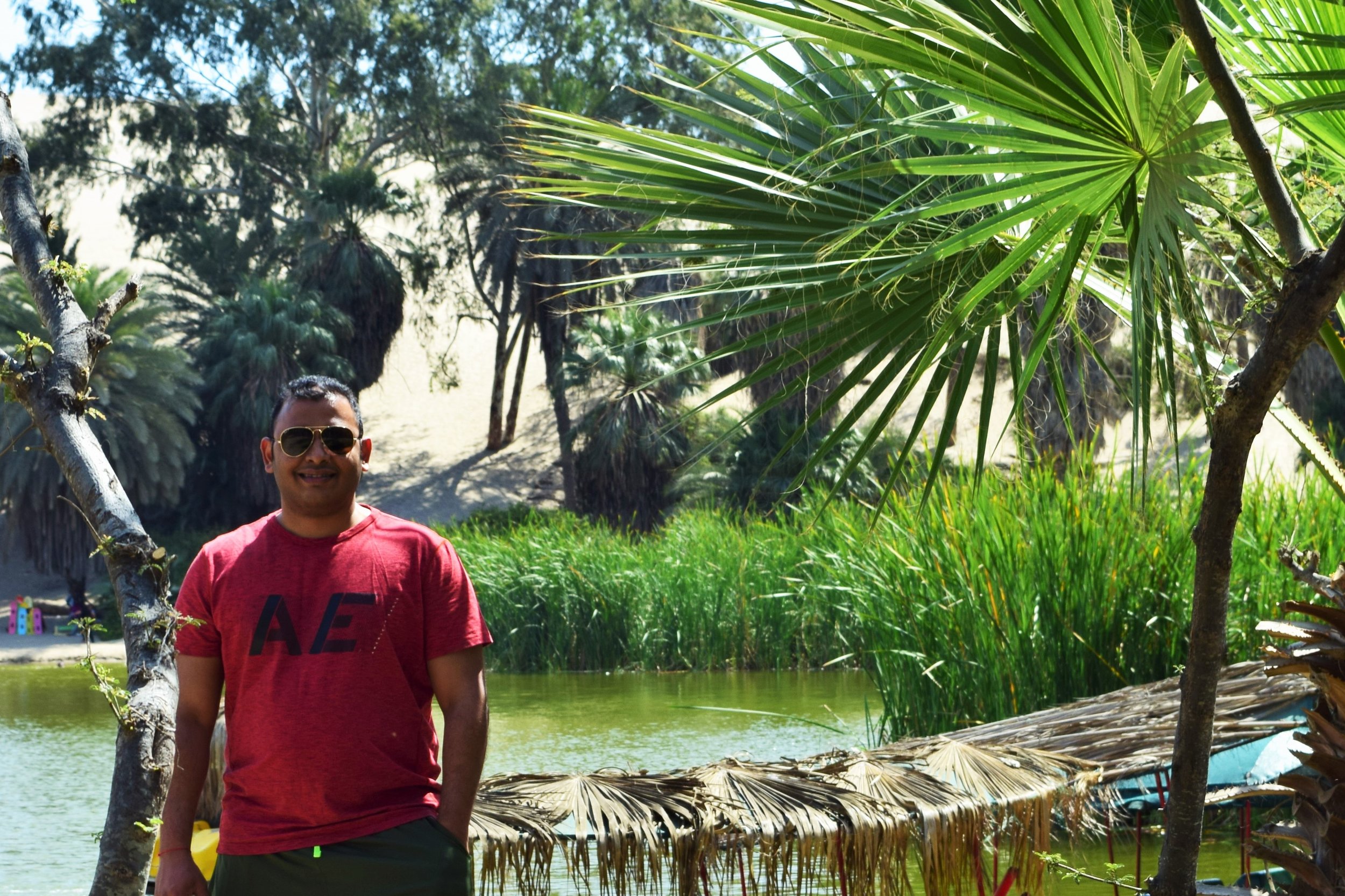 Note: We recommend booking your bus tickets online ahead of time to save you the hassle during your travel. The website is convenient and the booking process is fairly quick.
The round trip cost will be about $30 USD, but the cost varies depending on the time of your travel.
DO NOT forget your passport during your bus journey. It is a required photo ID.
- Taxi to Huacachina: Once we arrived in Ica, we caught a taxi from the Cruz del Sur bus depot. We lucked out with finding Ricardo, a Cruz del Sur taxi driver. He was the best thing that happened to us during our visit. He took us to our hotel for 15 soles, helped us purchase a phone sim card on the way, and then took us to Huacachina for an additional 15 soles. He also helped us book our sand boarding and sand buggy rides, which was our main plan for the day. He offered great recommendations for local restaurants. If this wasn't good enough, he was our reliable late night right back to our hotel in Ica and our early morning ride to the bus depot the next day. He communicated well in English and went above and beyond to make sure we were comfortable. Thank you Ricardo- you made our visit to Ica so pleasant and easy.
Note: Ricardo from Cruz del Sur would be excited if you told him you found him through us! His contact number is as follows: +51-994-521-831
- Ica to Cusco Travel Options: We had to find a way to get to Cusco, our next travel pillar, after our visit to Huacachina. We wanted to take advantage of the most efficient way in the interest of maximizing our time.
Here are your two options:
A 4 hour bus ride back to Lima from Ica through Cruz del Sur; same day flight from Lima to Cusco. This worked out to be the faster option. We took the early morning bus which brought us to Lima by noon. We had enough time to get to the airport and grab lunch before our late afternoon flight to Cusco.
Alternatively, you may chose to embark on a long 14 + hour bus journey from Ica to Cusco. You can look up the bus route options on the Cruz del Sur website. You can go farther south from Ica to Nazca Lines and then to Arequipa and Cusco.
When booking your accommodation, you will need to decide whether you want to stay in Ica or Huacachina. Ica has nicer and quieter hotels, whereas Huacachina is popular for hostels and hotels right in the middle of all the action, close to the oasis. We read that accommodations in Huacachina can be noisy at night with music from bars and late night parties. This may be giving away our age, but we really wanted a good night's sleep after our hectic travel and activities for the day! Hence we chose to stay in Ica and it was the best decision ever!
We found this little piece of heaven through 'booking.com' and it was one of our favorite accommodations on our Peru tour. Sigh...if only we could spend a little more time to enjoy our beautiful room and hotel! When you reach Villa Jazmin, you see a modest looking property in the midst of a residential neighborhood. As you step inside, you feel like you've entered a different world, paradise to be precise, secretly tucked away behind the mystic wooden doors. With cozy decor, bright shades of blue, and two inviting pools, you truly feel like you have been teleported to your 'happy place'!
Note: For a steal price of $80 USD per night, this resort property is worth every penny!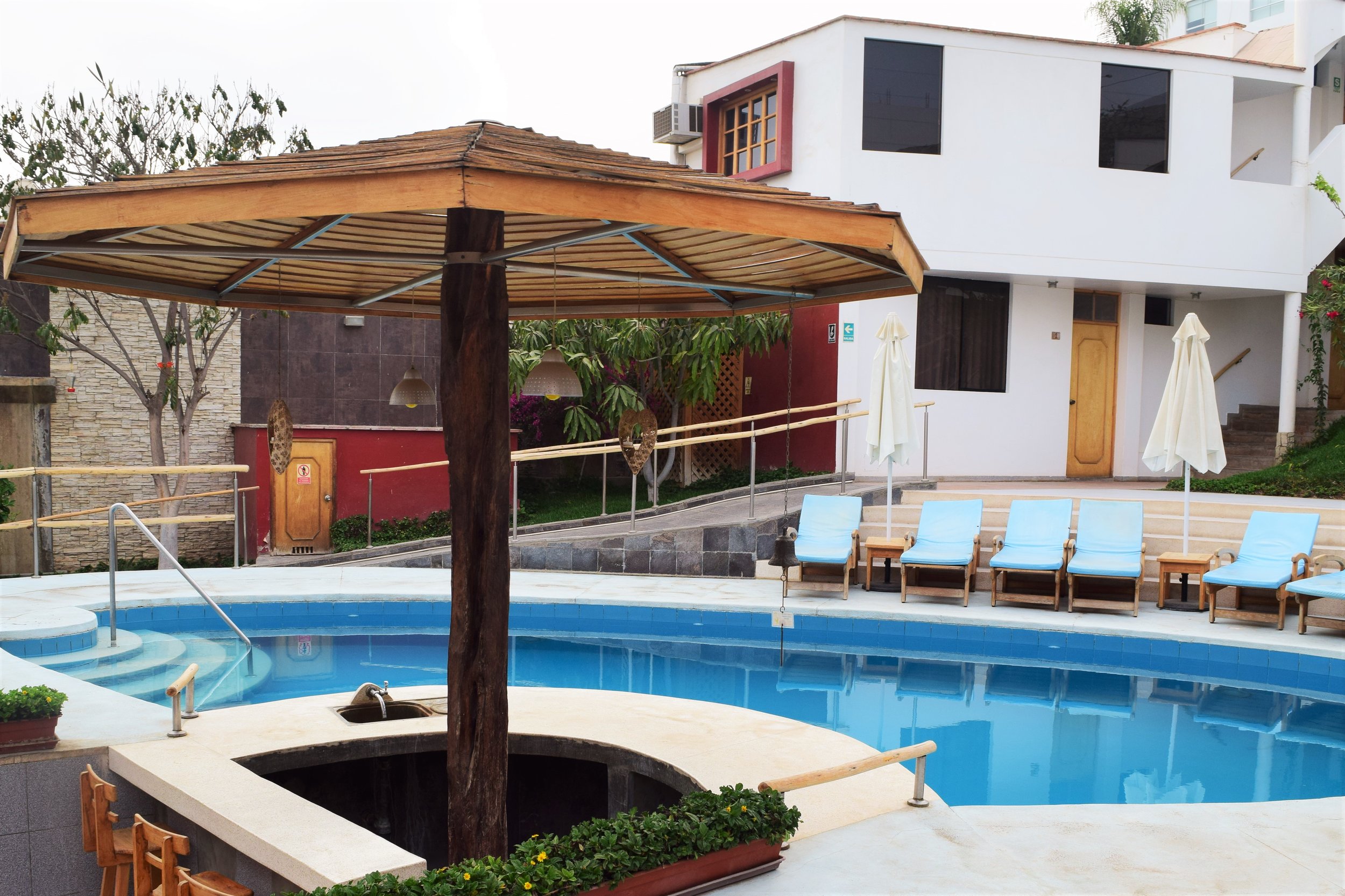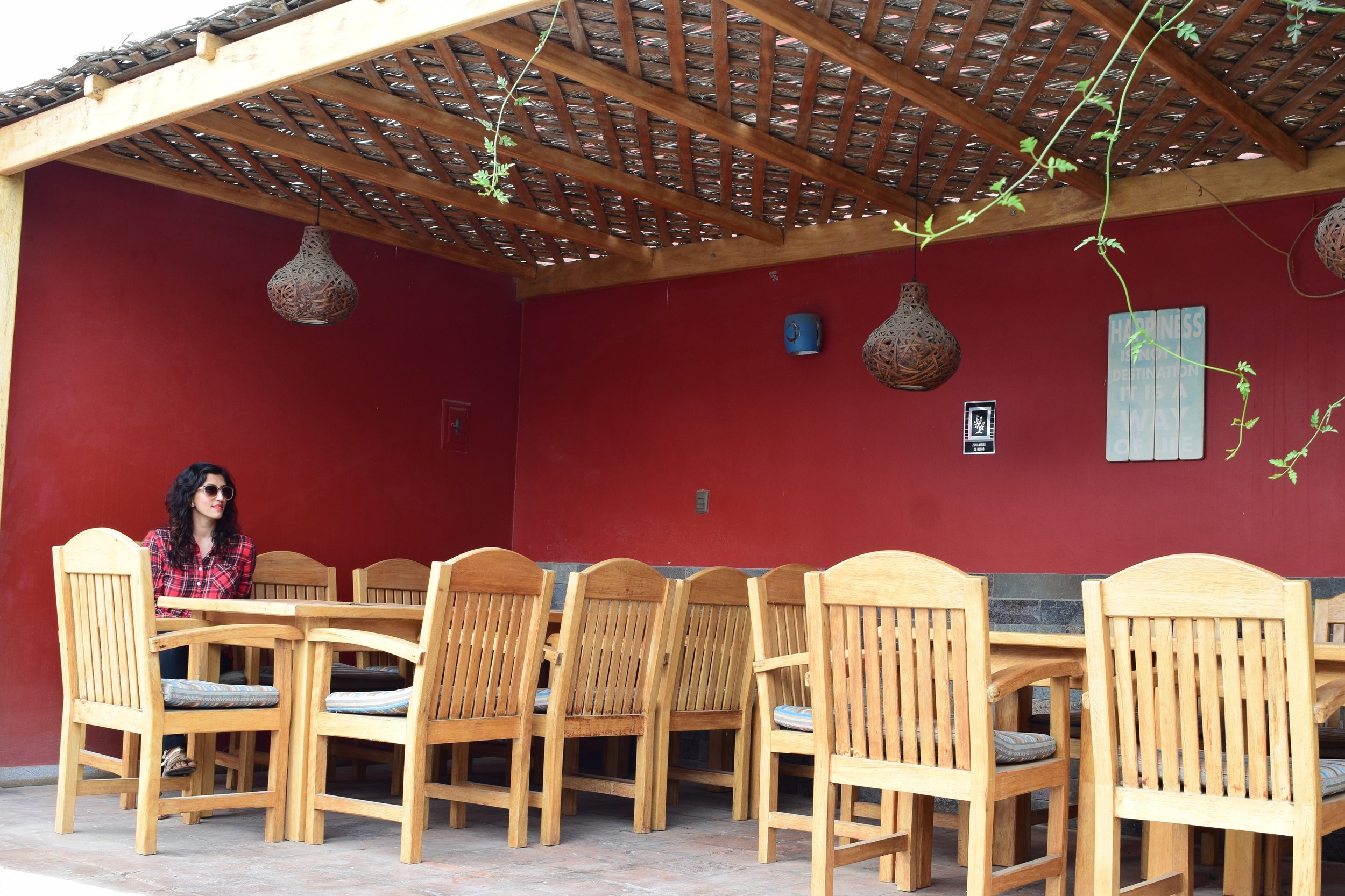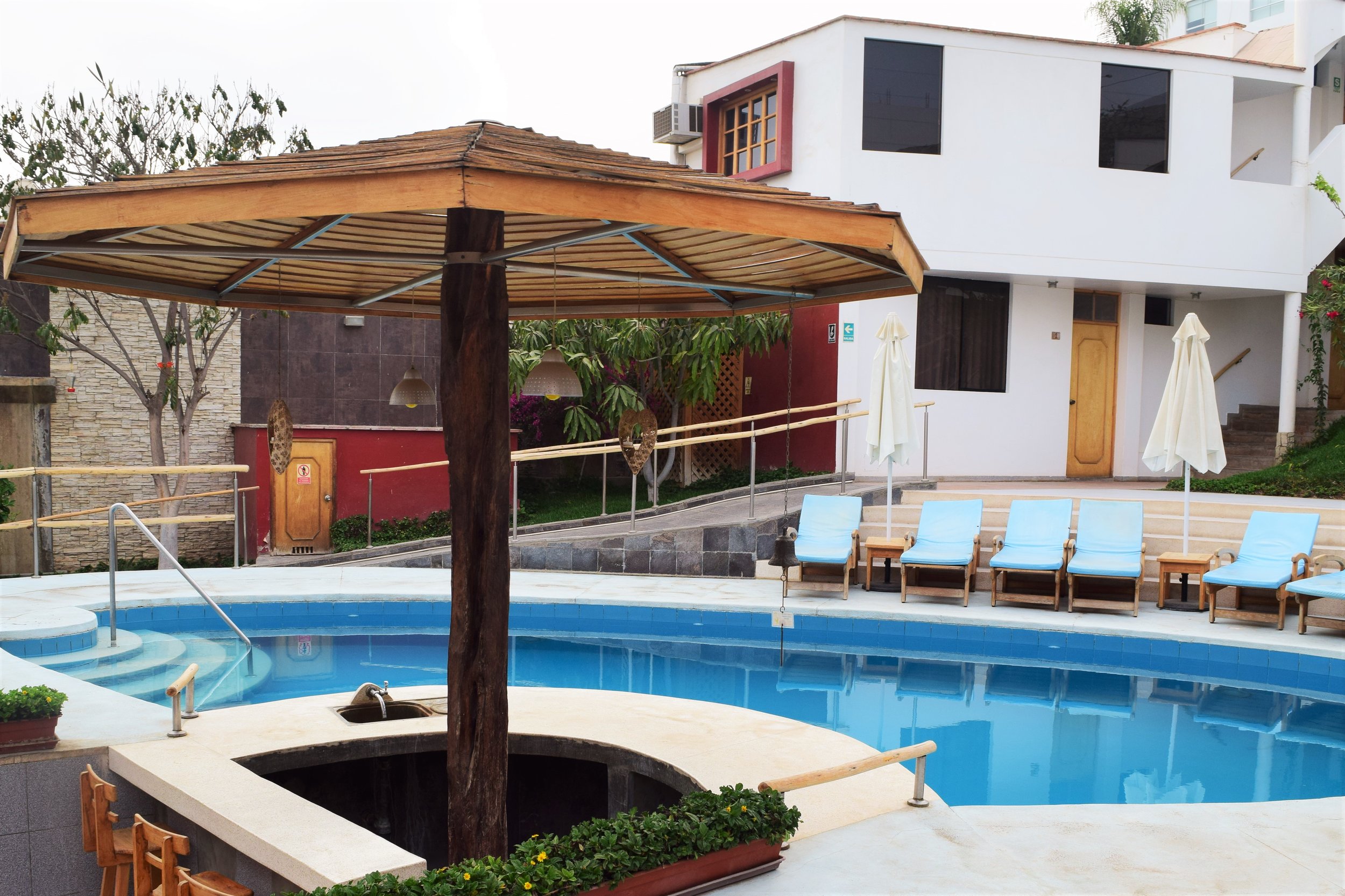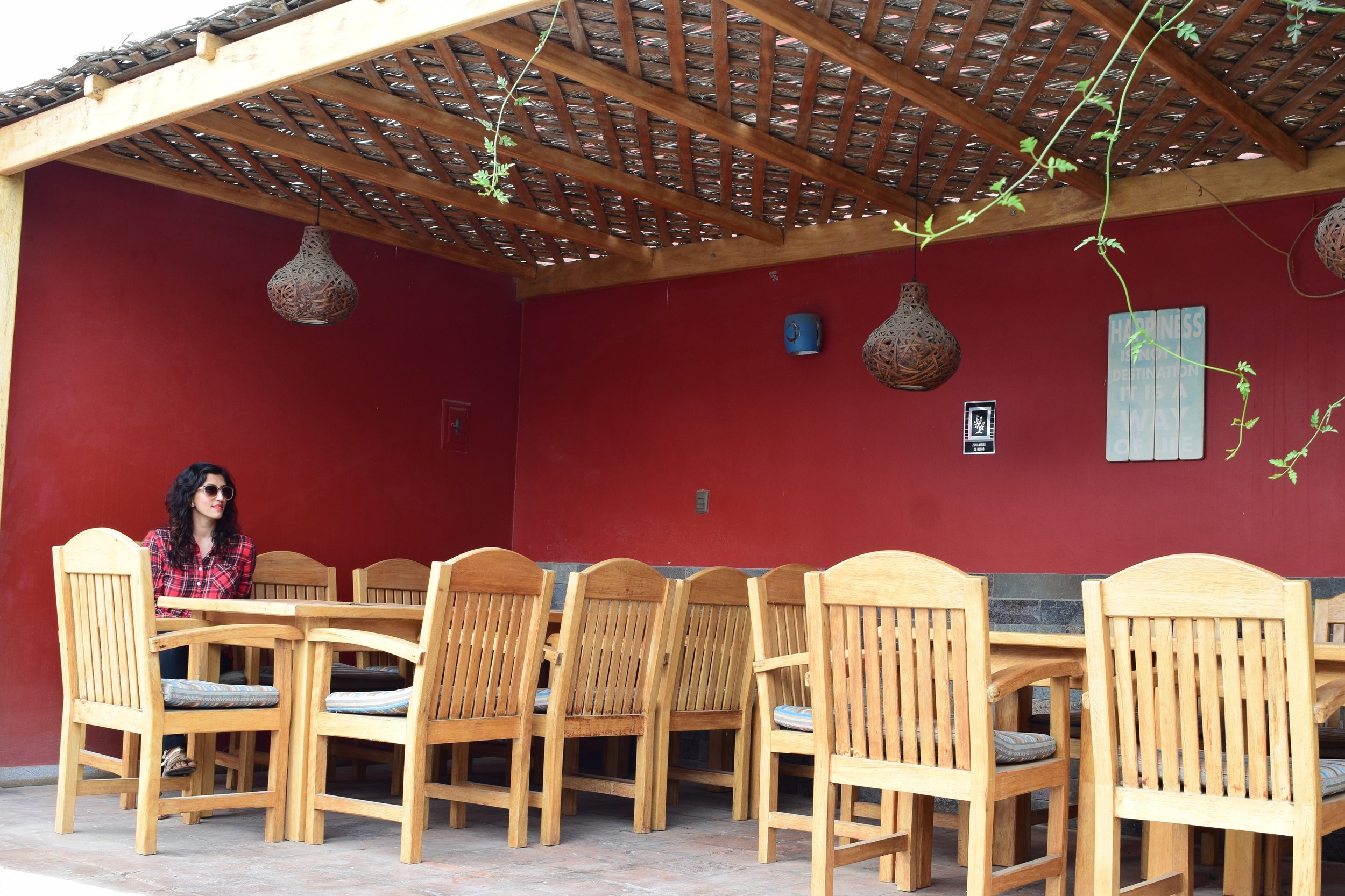 We enjoyed our meals and views of the oasis and dunes from two restaurants: Huacachina Backpackers House and Huaca-Fucking-China (yes that is what the restaurant is called and I promise I didn't make this up to try my hand at comedy...lol!).
The oasis is surrounded by many restaurants and bars along a lively strip. You definitely have many dining options at Huacachina.
ACTIVITies
- Leisure Stroll: You can walk around all of Huacachina at a relaxed pace in an hour or so.
- Boat Ride: Enjoy a boat ride on the waters of the oasis as the sun's rays make the water sparkle.
- Climb the Sand Dunes: A nice way to warm up for your challenging hikes ahead! Test your endurance as you make your way through the dunes!
- Sand Buggy Riding & Sand Boarding: We have committed to trying out one new adventure activity every year. And what a fantastic choice this has been! There is no excuse for not trying out the local sand boarding and sand buggy ride adventure tours in Huacachina. The whole experience lasts for two hours and costs about 50 soles per head. On our tour, a 60 year old lady was kicking ass and sand boarding like a pro- we looked at her in admiration, put on our happy smiles and spirits, and cherished every bit of this amazing experience!
Note: If you do catch a Cruz del Sur taxi, the driver will offer you some local tour options. There are plenty of local places to book your sand buggy and sand boarding rides. However, it's probably most convenient to book through Cruz del Sur since you will be right at their bus depot in Ica. You can also add on an Ica winery tour if you have some extra time handy. As for us, we chose to do one main activity and chill in Huacachina for the rest of the time.
Also, we recommend booking the 4 pm sand buggy and sand boarding tour. The weather was ideal at that time without the noon sun blazing right overhead. We ended our tour just in time for sunset and watched the sun kissed sands shine in shades of orange and yellow! So pretty!
There is a tour that leaves around 6 pm or around sun set. If you want to experience the thrill of doing the adventure ride in the dark, this is an option to consider!
Adventure packed day one of our travel done right! Is Huacachina one of your Peru travel pillars?
Check out the video feed below:)
If you enjoyed this blog, you may also like...