We hope that our Wild Wild West series gives you some major road trip travel goals. If Alaska and NY didn't cut it for you, then maybe the goodness of the West just will? I made a BIG deal about my 30th birthday (thank you Yang..AW!), because a milestone birthday like that definitely deserves serious celebrating right? (check out our skydive adventure if you haven't caught a glimpse of the madness just yet!). Well, our travels to the Yellowstone National Park was a part and parcel of this celebration. What better way to cherish journeys to this natural wonder than a fun and adventurous road trip...Yee Haw! Bring it on!
We will share our fun travel tales over a couple of upcoming blogs so that you can take in all this gorgeousness. Another memorable trip and what can I say..humbled and super grateful!
Salt Lake City
We brought in the Labor Day long weekend with a bang with our much awaited trip. We landed in SLC and immediately felt the positive vibes of the city. We wanted to do something totally different this year. After our Alaskan glamping experience, we were not quite ready to rough it out just yet. So after much deliberation and thought, we chose to do a camper van road trip adventure- to camp in the wild with a roof overhead:) How fun?
Our search for a camper van rental brought us in touch with Lost Camper Vans in SLC, and boy were we fortunate to have found them (don't let the name mislead you...hee hee). They were so friendly and the vans were very well equipped. The experience was unique. So ya...who would have thought that we would have such a blast spending four days living inside a van! Tight space and lots of time for off the grid self reflection!
Our van had a pull out bed inside with a sturdy bed frame, so it was very comfortable. We were provided with a portable stove and utensils. We were even allowed to borrow some supplies that were not used and left behind by other fellow travelers. 'A' for amazing customer service @Lost Camper Vans!
We parked at local campsites and only paid a reasonable camp site fee similar to what you would pay if you set up a tent. We didn't need a plug in like an RV because the van is a regular Dodge Caravan, just modified on the inside. I would say it was pretty comfortable for two, but they have options for larger groups as well. What a memorable experience...yay! Check out our camper van getting some air time below:) Take me back to these mountains please!
I wish we had more time to explore SLC, but our agenda was packed. But we highly...like highly x 100 suggest eating at Red Rock Brewery. It came well recommended by some great locals that we met along the way. And oh boy...I've never eaten so much awesomeness on a plate. So delicious...like my mouth is watering right now! We also stocked up on grocery at Smiths Marketplace (AKA WEGMANS of the WEST) before getting on the road.
Travel Route:
Our final destination was Yellowstone National Park. Most people take the direct route along the I-15 North via Idaho Falls. But of course, the journey is only more enjoyable when you take the path less frequently traveled. We chose to go from SLC to Yellowstone via Jackson Hole and the Grand Tetons...Sigh! The beauty and culture exposure along the way...definitely a must do. Check out all the views below! Open fields, dry lands, cows, approaching thunder storm, fresh air, and free spirits:)
Bear Lake
This was a 3 hour drive from SLC and a magical retreat from the urban jungles of our daily life.
Yang, as you can see, was quite pleased! The beauty and serenity of Bear Lake totally makes it worth taking the longer route! Loved our happy times here. We got to the lake just before sunset. We were the only ones at the lake and literally had the whole place and the view to ourselves. Blissful!
So happy in my printed harem pants. Mind you...this was the last of my summer clothing on this trip! (#freezingsaysaCanadian?).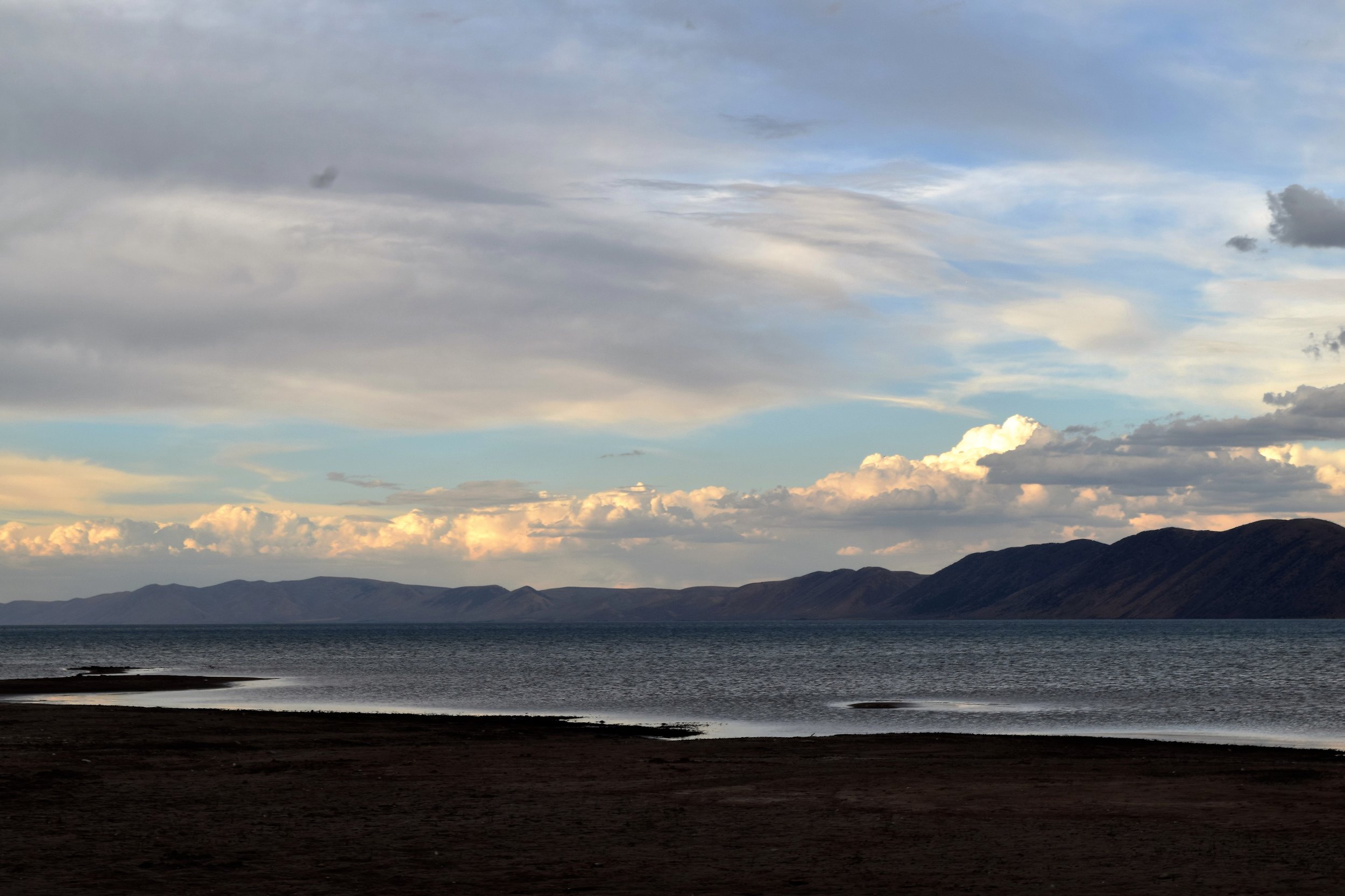 From Bear Lake, we made our way to Afton, a small town in the state of Wyoming. Afton is home to the famous Afton Arch- the world's largest Elk Arch! Unfortunately it was quite dark by the time we got to the arch, which is an hour away from Bear Lake. Image below borrowed from Google images, cause our pics from the night were so dark...meh! Oh well:)
Jackson Hole, Wyoming
ACCOMMODATION Day 1- We initially had a campsite booked at the popular Flagg Ranch. This trip though was a first in many ways! Local forest fires led to our booking being canceled a day before our travel. But no regrets...as we landed a superb alternative and loved our stay! We were lucky to find a same day reservation at the Snake River Park KOA at Jackson Hole, Wyoming. We got a campsite right beside the smooth flowing river and listened to the water all night. Serenity at it's best!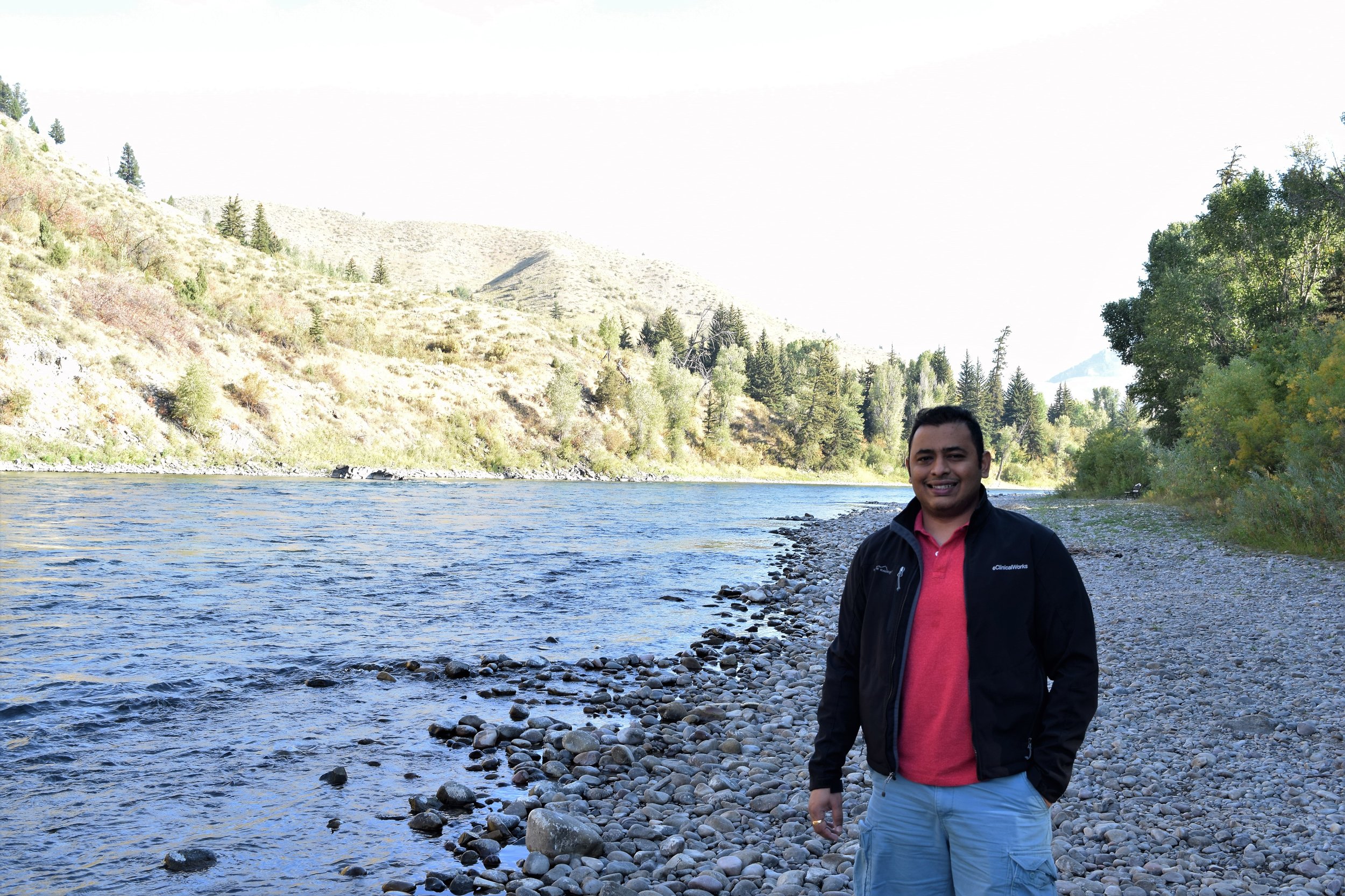 It sure was hard to bid adieu to our scenic campsite, but we left early to make our way to Jackson Hole Town Square. The drive took us about 30 to 45 mins. and brought us to the quaint little town elk arches!
The town of Jackson has such a different feel to it. This was our first trip to the Wild West and the town put us in the right mental space...loved every minute of being here!
We leisurely strolled around the town square as stores opened their doors to welcome locals and tourists. We couldn't enough of the elk arches around! So cool!
You can tell we are having a great time!
If there is one place you should definitely stop by at Jackson, it is Wild West Designs! This will give you some serious rustic Interior Design goals. I was dumbstruck by all the unique home decor pieces they had in here. We would buy the whole store if only we could afford it (#lifegoaloneday). Swoon over the artsy antique home decor beauty!
Bringing the outdoors indoors!
You can tell Yang is totally digging this whole Wild Wild West theme! Ha ha....Don't forget to follow our elk trail as we make our way to Yellowstone! Woo!